One of the most widely misleading pieces of information I was given is that fat makes you fat – and that couldn't be further from the truth!!! If we take that a step further we are often told that saturated fats are even worse for our health. Whether it comes from our doctors or news articles, we are often told just how bad coconut oil is because it is a source of "artery-clogging" saturated fat.
Coconut oil has been criticized when it is actually one of the good fats. It is used to treat a number of common illnesses and considered by the Food and Drug Administration (FDA) to be a safe, natural food.
Major benefits of coconut oil:
Improves digestion
Balances Hormones
Fights inflammation
Supports healthy skin
Helps balance blood sugar
Supports weight loss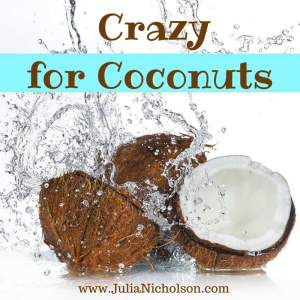 Let's take a step back and look at the natives that live in the Islands of the South Pacific, they were robust and healthy eating traditional native diets. Heart disease, diabetes, cancer, and arthritis are almost unheard of, but when they abandon their traditional diets for the Western foods, they find that their health deteriorates, and the more the Pacific natives move away from the diet of their ancestors, the closer they come to the diseases of the West like diabetes, gout, obesity, and atherosclerosis.
Time and time again, we are told to limit our fat intake to reduce the risk of heart disease and fat should comprise no more than 30% of our total calorie intake per day. However, the Polynesian people consume large quantities of fat in the form of coconut oil, as much as 60% of their total calorie intake. Hmmm, it makes you start to think, right?
WHAT PEOPLE DO NOT UNDERSTAND IS THAT THERE ARE MANY TYPES OF SATURATED FATS AND THEY AFFECT THE BODY DIFFERENTLY. THE PLANT SOURCE THAT IS FOUND IN COCONUT OIL IS DIFFERENT FROM WHAT IS FOUND IN ANIMAL PRODUCTS.
The majority of fats and oils found in our diets, whether they are saturated or unsaturated or come from animals or plant sources which are comprised of long chain fatty acids (LCFA). Anywhere from 98 to 100% of all the fatty acids consumed are LCFA. What makes coconut oil superior is that it is a medium chain fatty acid (MCFA). Why is that important? Because MCFAs are smaller and easier to digest due to the fact that they don't require special enzymes to break them down. They also help boost your metabolism, so this is an excellent addition to your diet if you are looking to lose weight. 
My Top 15 Ways to Use Coconut Oil
Add a Tablespoon to your morning smoothie
Fantastic eye make-up remover – added bonus of a moisturizer
Use as your primary cooking oil – especially since it has a high smoke point
Oil Pulling for improved oral health
Spread on your toast and add a dash of cinnamon- instead of sugary jams
Great oil to help keep your dogs healthy – add a tablespoon to their food
Help soothe a sunburn – add lavender oil for added relief
Use it to shave your legs instead of shaving cream
Apply as daily moisturizer and add your favorite essential oil for scent and added health benefits
Rub on stretch marks or use to help prevent them for growing baby bumps
Great massage oil – have your beau rub those feet or shoulders at the end of the day
Creamer for your coffee
Help reduce cellulite by using a tablespoon of coconut oil with 5 drops of grapefruit oil and massage into troubled area
Natural lip gloss – apply peppermint oil on top for added lip plump
Personal lubricant 🙂 (be careful though, it does have the ability to breakdown latex…we don't need any coconut baby accidents).
---
Don't forget if you want to learn more about how to be healthy and look great with ease then sign up to get free goodies I only share through e-mail by clicking here.
SaveSave
(Visited 180 times, 1 visits today)