Most of us know that the sunshine can be wonderful in doses (Vitamin D, anyone?). However, we also know that we need protection from the sun's rays. You can slather on sunscreen all you want, but are you using the best and safest kinds?
The Scoop on Sunscreens
The sunscreen section in stores are packed full of different brands and kinds of sunscreen, and it can be overwhelming to make your choice! Many sunscreens on the market contain harmful toxins that can really do more harm than good. There are two different kinds of sunscreen (and I'm not just talking brands). The two kinds are chemical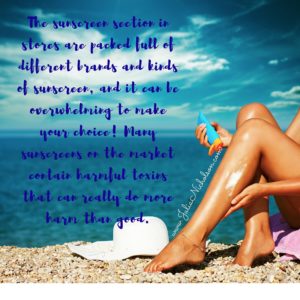 and mineral.
Chemical sunscreens contain well . . . chemicals that can penetrate the skin and pass through tissues and into our blood. Most sunscreens on the market contain these chemicals and actually can disrupt our bodies' natural functions. The worst is oxybenzone, which is in most sunscreens.

Mineral sunscreens

, on the other hand, are sometimes the best choice. Unfortunately, you can't always trust these because some include minerals and chemicals. Some, though, are great because they do not penetrate the skin and only sit on the skin, protecting the skin from sunburn.
So . . . What Sunscreens are Great?
I personally have used many mineral sunscreens that I love a lot. I love the sunscreen line from 100% Pure , and they have not only regular SPF but also lip balms and BB Creams as well. They also have many different forms of sunscreen with mists and sticks that always suit your preferences and activities. I also can recommend the Very Emoillent Sunscreen from Alba, which is recommended by the Skin Cancer Foundation. The Environmental Working Group (EWG) recommends sunscreens from JASON, Kiss My Face, Beautycounter, and Burts' Bees. Please check out their website for more sunscreen ratings and information at Best Beach and Sport Sunscreens.
How to Prep for Buying the Right Sunscreen
Before you buy sunscreen, make sure to think about your sun-drenched activities and preferences. Some like sunscreens in spray, stick, or lotion form, so pick which you like best. Then, do your research and make a list of a few sunscreens that you prefer. Some are not available in certain stores or some only online, so be prepped to either fire up the laptop or search through store shelves. Make sure you have a few options so you won't settle for a chemical sunscreen just because you're in a rush at the store. 

---
Hey! Are you on my e-mail list yet? If not, you're totally missing out! Click here to sign-up and get free weekly tips and recipes!
(Visited 28 times, 1 visits today)