Y'all, this is my FAVORITE smoothie.
If you've read my blog at all or know me at all, you know how much I love smoothies.
I'm completely obsessed with them because I know they make me a healthier and happier person. 
The spinach in this recipe gives you a punch of vitamins and minerals like folate and iron. The spinach and avocado have tons of nutrients and fiber to help you stay full. The pineapple makes the smoothie totally crave-worthy with its sweetness and vitamin C. Coconut water is low-calorie and contains vitamin C, potassium, and calcium.
Smoothies are amazing because they are such a simple thing you can do for yourself that makes such a difference.
Even if you just had a smoothie for breakfast, you have given your body such a gift of nutrition and wellness.
Your choice to drink your healthy breakfast can make such a huge difference in your choices for the rest of the day.
Green Goddess Smoothie
2 cups spinach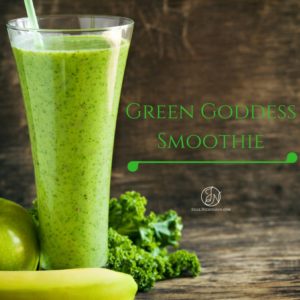 1 1/2 cups coconut water or
coconut water kefir
1 cup chopped pineapple
1 avocado
1 scoop of your favorite protein powder (optional
---
Don't forget if you want to learn more about how to be healthy and look great with ease then sign up to get free goodies I only share through e-mail by clicking here.
SaveSave
(Visited 9 times, 1 visits today)