We all need a little boost sometimes. Maybe you're dragging through your day, tired again. Maybe you've screwed up something at work. Or maybe you just are having a day when you're not feeling great about yourself. Or maybe you just need to reset your mood. It happens! The important part of having a down moment is the way up and how you handle it. I have a few affirmations that I love to repeat to myself when I need a boost. Find an affirmation that works for you and say it to yourself when you need it. I say my affirmations aloud so I can hear my own voice say something positive to myself.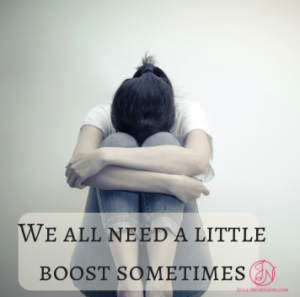 Here are some suggestions for affirmations!
I am enough.
I have all of the qualities I need to be successful and happy. I'm complete and able to handle whatever comes my way.
I am healthy and strong, and I will treat my body and soul with kindness. I will treat my body with respect.
I have a happy future full of love and light, and my past is the past. I am in charge of my own destiny.
For morning: Today presents amazing opportunities for me, and I won't waste today being negative!
For evening: I worked hard today and did my best.
I am beautiful, strong, and sexy. I can enjoy my body.
I deserve respect and love, and I will respect and love others.
I have much to be grateful for, and I will seek to show gratitude today.
I will face today with positive thoughts toward my mind, body, and soul.
Try a few of these affirmations daily, and see how this small change can really impact your outlook and attitude. 
Do you have an affirmation you love and use often? Comment below!
---
Hey! Are you on my e-mail list yet? If not, you're totally missing out! Click here to sign-up and get free weekly tips and recipes!
(Visited 70 times, 1 visits today)